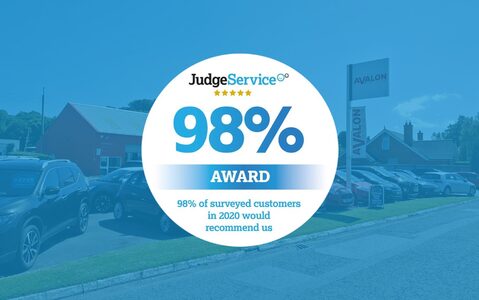 You Judged and we Delivered!
Here at Avalon Motor Company, we have a simple policy to treat others as we wish to be treated. We pride ourselves on offering the highest levels of customer service, both during and after your vehicle purchase.
We maintain an ethos of trust and transparency, which has served us well for the past 33 years. Our aim is - and always will be - to provide our customers with a memorable and enjoyable, no pressure buying experience.
With that in mind, we were over the moon with our latest award from JudgeService, where 98% of surveyed customers in 2020 would recommend us. If you took the time to review us via JudgeService, then thank you! We really do appreciate your positive feedback and comments.
JudgeService is a review and customer satisfaction specialist, providing verified reviews for thousands of used car dealers like us across the UK. As an independent review provider, they are dedicated to publishing unbiased customer reviews in the marketplace. Here's what some of our recent customers had to say about us...
"I'd recommend Avalon Motor Company because I found our salesman, Matt, extremely knowledgeable and well informed. The price of the car was extremely good and the information we were given was fantastic. The sale was very smooth and the car is brilliant." - Miss Emma Connolly, 09/02/21.
"I'd definitely recommend Avalon Motor Company because the salesperson was excellent, with no pressure or gimmicks and the vehicle was excellent value for money." - Mr S, 29/01/21.
"Avalon Motor Company staff were good because it was very prompt and better value than another company I had looked at for finance. Also as an NHS community worker, a reliable car is vital and they ensured it all happened quickly and smoothly to keep me on the road." - Mrs Nicola Bilsborough, 14/01/21.
But don't just take our word for it, you can look at all of our JudgeService reviews here. We're proud to be Somerset's leading vehicle retailer, supplying exceptional cars with exceptional service. Over 600 customers have reviewed us on JudgeService, so if you're looking for a quality used car then let us help you.
We stock a wide variety of used vehicles from big brands such as BMW, Ford, Kia, Mercedes-Benz, Peugeot, Volkswagen and more. With prices to suit every budget and finance packages to make your new purchase more affordable, we consider ourselves a one-stop buying experience. Start your used car journey by viewing our online showroom here.