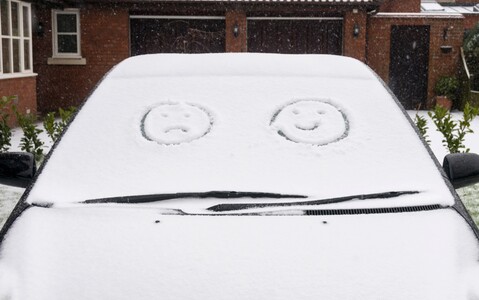 Winter Weather Driving Do's and Don'ts
With the winter weather taking hold and widespread snow and flooding affecting roads across the UK, the risks of hazardous driving conditions are increased.
Even a short journey can prove unsafe in the worst weather, so to help you have a safe trip, here's our driving do's and don'ts in the winter weather:
Consider Your Speed
DO reduce your speed by at least 5-10mph in adverse weather. Wet or icy conditions can affect the rate in which your car is able to slow down, should you need to brake.
DON'T drive around corners too fast as this could cause your car to skid and become out of control, so remember to stay slow.
Keep Your Distance
DO make sure you keep enough distance between you and the car in front. In difficult driving conditions you should double the recommended distance to the length of two cars, or four seconds between you.
DON'T drive too closely to the car in front of you or be tempted to tailgate. If that car were to brake suddenly, your ability to do the same will be greatly affected in wet or icy conditions.
Switch Your Headlights On
DO put your headlights on at all times whilst driving in winter. Even during the day in winter there can be a lack of light, so by doing so it will provide better visibility for you and other motorists too.
DON'T assume that just because you can see other road users, that they can see you. Most vehicles nowadays tend to have automatic lights, but if not, make sure you switch them on.
Defrost Windows Thoroughly
DO ensure that your windscreen and windows are thoroughly defrosted and clear of any condensation. Remember that the best way to remove ice and frost is with an ice scraper and some de-icer.
DON'T simply clear a small area for you to see out of. It's not only dangerous, but can get you in trouble with the police too. By law, you must be able to clearly see out of every glass panel in your vehicle.
Clear Your Car of Snow
DO clear snow from the roof, bonnet, and any other areas of your car where it can come loose whilst driving. If you don't clear your car of snow, this can be flung from your car when driving and potentially cause problems for other drivers, especially those travelling behind you.
DON'T be tempted to leave it. Did you know that you can be issued with three points and a £60 fine if you're caught driving with snow on your car? This includes your car number plate too, as it should be visible to other road users at all times.
Steer Into A Skid
DO steer into a skid if you start to lose control of your vehicle. Take your foot off all the pedals and only use your brake if you're unable to steer out of trouble safely.
DON'T be tempted to oversteer, slam on your brakes, or pull up your handbrake. This can cause the vehicle to become more erratic or spin.
Stick to Main Roads
DO try to use main roads that are bigger and busier. Usually these roads that will have been gritted, so there's less chance of icy patches or snow.
DON'T use country lanes where possible as these tend to remain untreated with grit, so there's more chance of encountering a problem during adverse weather conditions.
Avoid Flooded Areas
DO avoid puddles and flooding where possible. Be aware that water may be deeper than it first appears and may be masking a pothole too.
DON'T be tempted to speed through as you could be putting yourself and other drivers at risk. Always test your brakes once you've passed through large areas of water.
Remember that a winter health check is essential to help keep your car on the road and to ensure it's safe for your and your passengers. Click here to find out more about how to prepare your vehicle for winter.