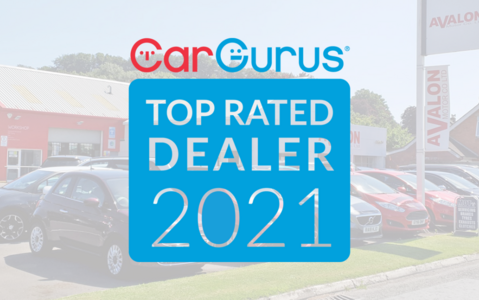 We're a CarGurus Top Rated Dealer
Automotive website CarGurus has announced the winners of its Top Rated Dealer Awards and here at Avalon Motor Company, we are over the moon to be a recipient of the prestigious award.
2021 is the 5th annual Top Rated Dealer Awards from CarGurus, celebrating an exclusive group of dealerships with the highest average ratings from CarGurus buyers.
To win an award, each dealer is required to hold a rating of 4.5 stars or above and a minimum of five verified customers reviews in the last year. Being recognised as a Top Rated Dealer signifies our commitment to provide exceptional customer service here at Avalon.
In addition we've also received Gold Award-winning status, allocated to an elite group of dealers in the UK who have earned the Top Rated Dealers status by CarGurus for at least five consecutive years.
We feel extremely proud to receive such recognition, which classes us as among the best in the industry when it comes to customer satisfaction.
Here at Avalon, we pride ourselves on reputation when it comes to excellent customer service. Established in 1987, our family business has been serving the community of Somerset to the highest standards of customer care for over 30 years now.
But don't just take our word for it, here are some of our latest reviews on the CarGurus website:
"Their no pressure approach to buying a car was refreshing. The process was straightforward and a courtesy call two days later to see how the car is going was good. Would recommend them." - Colin
"I had a very good experience. I was contacted straight away, given the best advice and dealt with as a customer very professionally." - Claire
"The dealer replied to me straight away and gave me all the information about the car and answered any other queries." - Julie
We aim to bring you the best selection of used cars possible, so whatever the type of car you're looking for, we're here to help. With a large selection of quality used cars available, explore the choice of vehicles at our dealership in Glastonbury.
Why not search our online showroom and discover your next car now.