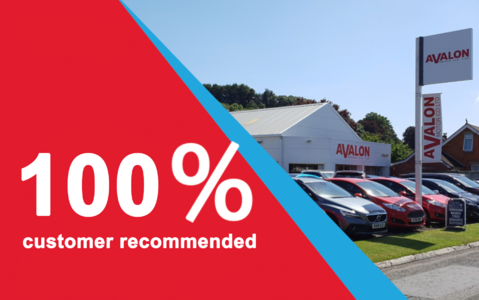 We Are 100% Customer Recommended
Here at Avalon Motor Company, we pride ourselves on the highest levels of customer service, both during and after your vehicle purchase.
This is why we're proudly recommended by 100% of our customers on Judge Service when it comes to customer satisfaction.
What is Judge Service?
Judge Service is a customer review site that focuses on providing businesses like us with the best possible insights into how customers feel about their time spent with us. It takes into account the customers overall experience, their reason to visit, as well as feedback about our dealership and the team.
Based on surveys completed by our customers during a six-month period between 1st January 2021 and 30th June 2021, Judge Service concluded that 100% of them were happy with the service we provided. So much so that they'd recommend us to family and friends, whilst promising to visit us again in the future.
We are extremely pleased with the fantastic feedback and 100% recommendation score. Thank you to our dedicated customers for their very kind words.
You be the judge
We take our customers' feedback and reviews very seriously, so much so that we make sure they are easily accessible through our website. At the top of our homepage, you can discover all of our latest reviews by clicking on the dedicated Judge Service button displayed.
This will give you access to a wealth of customer reviews over the past six months. Here you'll see that we have consistent 5-star reviews resulting in 96% overall satisfaction from our customers in addition to our 100% recommendation score.
Judge Service is an independent review site and we always ask our customers to be open and honest in their judgement following their Avalon experience.
Recent reviews
As seen on Judge Service, we're proud to receive some rather wonderful words from recent customers:
"I'd definitely recommend Avalon Motor Company because the staff were friendly but not 'pushy'. I was permitted to take the car for a lengthy test drive and give the car a good inspection without hindrance. It was very reassuring that I received a phone call from the sales person on his return from holiday, that the car was okay and I was happy with the service I had received. The staff also kept me updated with the delivery of the car and called to make sure it had arrived and that everything was okay. For once, visiting a motor trader to purchase a car was a pleasure and I would highly recommend Avalon Motor Company." - Mr Stephen Hurley, 5th August 2021.
"Avalon Motor Company was fantastic because when I first contacted them, I told them that I was interested in three cars that they had on the website. I was told that all three would be ready for me to inspect at a time that suited me and on arrival, the three cars were all ready and serviced. After test drives, I bought a Renault Clio and drove it away with my Vauxhall Corsa being taken in part-exchange." - Mr S, 27th July 2021.
For a fantastic selection of used cars each representing exceptional value for money, please click here.