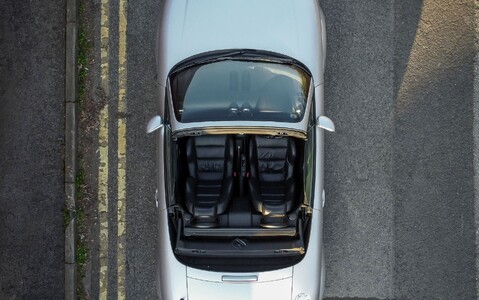 If you're looking for a convertible car to make the most of the summer months ahead, then you need to know where to start.
With many great open tops on offer, you'll want to make sure that you choose a vehicle that suits you and your lifestyle. Convertibles come in all different shapes and sizes; some may be best placed for a weekend drive, whilst others wouldn't look out of place during the daily commute.
An open top car will give you the option to have the roof down on hot and sunny days, whilst being able to stay warm and dry during unpleasant weather by keeping the roof up. Although if you need lots of room for the family or ample amounts of boot space, then this may not be the type of car for you.
With summer just around the corner, we've taken the opportunity to compile a list of the top 10 convertible cars that won't break the bank. Take a look at what has made the cut...
Abarth 500C Convertible
Having made quite a name for itself, the Abarth 500C punches high on performance and is a really likeable little car. Fiat's premium sporty supermini perfectly balances open-air style with efficiency that makes this car hard not to love.
Audi TT Roadster
Described by Audi as a powerful open-top icon, the Audi TT Roadster is a good-looking, quality convertible car which is excellent value for money too. Experience a high-performance vehicle that is powerful and sporty to drive, which also has a decent amount of boot space for a coupe.
BMW 4 Series Convertible
Benefit from a punchy turbo-charged engine, decent fuel economy and a well-equipped interior with the BMW 4 Series Convertible. Choose from three trim levels which are the SE, Sport and top of the range M Sport model, depending on the amount of styling required.
BMW Z4
The second BMW to make our top 10, the Z4 is considered a sports car for grown-ups. It perfectly strikes the balance between a fun drive and a good all-round everyday car. It may not be as fast as other vehicles in its class, but the Z4 certainly makes up for it in style.
Citroën DS3 Cabrio
Considered a rival to the Mini Convertible (highlighted further down our list), the DS3 Cabrio pairs good looks with a great driving experience. Enjoy the wind in your hair at any time during your journey, as the Cabrio allows you to open or close its roof at any speed - even on the motorway.
Jaguar XK Convertible
If you're looking for a great used convertible, then you can't go far wrong with the Jaguar XK. Considered a future classic, the two-door XK is stylish and lightweight in design and packs a powerful engine. Kitted with a generous amount of equipment, you'll enjoy class-leading safety but just don't expect too much room in the rear.
Mazda MX-5
Mazda describes its MX-5 as the champion of all roadsters and boasts that the car offers more power and less weight than others in its class. Deemed so much more than just a sports car, you'll enjoy playful handling in this hardtop convertible which features a driver-centric design to give you the best driving experience possible.
Mercedes-Benz C-Class Cabriolet
The C-Class is a four-seat convertible with a soft top rather than a hard top. Enjoy open-top relaxation on warm sunny days in this beautifully finished vehicle - quality which we've come to expect from a Mercedes. It's a smart looking car which is perfect for everyday driving.
Mercedes E-Class Convertible
Considered the best of the medium-sized cabriolets, the E-Class offers ample amounts of space for a four-seater convertible, coupled with a decent size boot too. Oozing with class, expect a comfortable and stylish interior which provides a pleasing drive that handles well on the road.
Mini Convertible
Mini describes their convertible as a vehicle that seizes those special moments and turns them into something magical. There's no doubt that you'll certainly have some fun in the sun with this British icon, which is quick and nimble to drive. Choose from the Cooper, Cooper S or John Cooper Works, depending on the trim level you desire.
Find your perfect pre-loved car
Here at Avalon Motor Company, we specialise in the sale of used cars and have a varied selection of vehicles for you to choose from at our dealership in Glastonbury, Somerset.
You can search our range of used cars online by clicking here and filtering your search by make model, price (full or monthly), age, colour and so many more options at your fingertips.
Our showroom is open 7-days a week for walk-in visits, test drives and appointments. For more information about any of our used cars, please call us on 01458 835000.