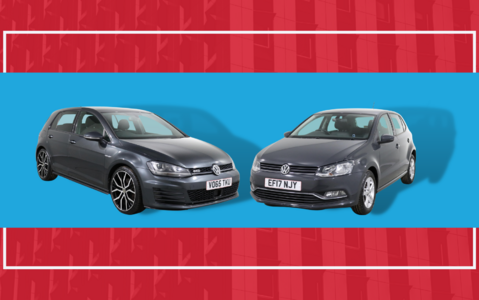 A brand associated with quality and prestige, Volkswagen has been a dominant force within the automotive industry for many years now.
Fondly referred to as VW, the marque is the largest car manufacturer in Europe and very much considered a world-leader. With a wealth of history behind it, the German brand has been in business since 1937. It was originally established to mass-produce a low-priced car for everyday people.
The Volkswagen Group prides itself on a distinct set of values and an overarching goal; to offer attractive, safe and environmentally sound vehicles to compete in an increasingly tough market and set world standards in their respective class.
It is this approach that has seen them design and build world-renowned award-winnings cars for over 80 years.
Discover a Volkswagen For You
The Volkswagen range really does offer something for everyone. Synonymous with the brand is their best-selling Golf and Polo models, which regularly compete against each other when it comes to the overall best-selling VW each year. Widely regarded as all-rounders, Volkswagen's Golf and Polo models are solidly-built, reliable compact hatchbacks which together have sold over 50 million units - a staggering achievement.
The main difference between both models is size; the Golf is slightly larger - comparable in size with other compact hatchbacks such as the Ford Focus - and measures wider than the Polo, although marginally shorter in height. The Polo is more similar in size to a Ford Fiesta by comparison.
By far the smallest vehicle in the VW fleet, the Volkswagen Up is a supermini-sized city car which is considered one of the best in its market. Unmistakable by design, the Up is the ultimate package for new drivers as they prove extremely cheap to tax and insure.
Volkswagen has ensured it delivers on a vast range of impressive SUV (Sport Utility Vehicle) models too, including; the Tiguan, Touran, Touareg, T-Cross, and T-Roc. Each has its own distinctive qualities and features appealing to a diverse audience.
Offering heaps of diversity within the full VW range, Volkswagen also builds estate cars such as the Passat. It's a mid-size car designed for long-distance comfort driving which also offers an abundance of space for passengers and cargo.
Investing in greener travel, the all-electric ID range is the blueprint for Volkswagen's future. The ID.3 and ID.4 are pushing the boundaries of EV technology in terms of charging capabilities and range of miles on a single charge. It's an exciting time and signals a new era for the brand.
Used Volkswagen Cars at Avalon
Here at Avalon Motor Company, we've been serving Somerset and Glastonbury for over 30 years. We're the name for used cars in the South West and pride ourselves on offering the highest levels of service, both during and after your vehicle purchase.
With plenty of used vehicles in stock, discover the makes and models each representing exceptional value for money. If you're looking to invest in a Volkswagen, then you've come to the right place.
Whether it's a VW Golf, Polo, Passat, Tiguan or Up, we've got you covered. Explore our selection of great value used Volkswagens today, many at reduced prices meaning that you could save over £1,000 on your purchase.
New stock is added every day, so be sure to keep up-to-date with our latest arrivals.