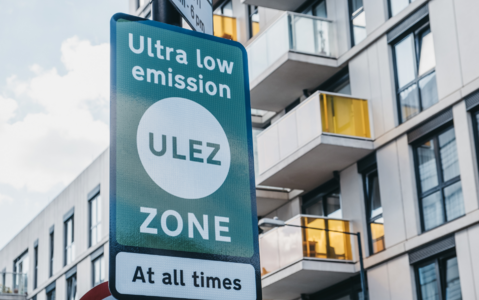 The ULEZ Expansion Explained
Whether you're a regular visitor to London, or a one-time tourist and are travelling into the city by car, you'll need to be aware of the new Ultra Low Emission Zone (ULEZ).
A scheme put in place by the Mayor of London, ULEZ operates all day and night every day of the year. The only exception to the rule is Christmas Day when charges are exempt for 24 hours. Read on below to find out if and how the ULEZ expansion will affect you:
Why was ULEZ put in place?
In April 2019, the Mayor of London launched a ULEZ area in central London which covered the same eight square mile area that the congestion charge currently operates.
The ULEZ scheme was put in place to help clean up London's toxic air which sadly contributes to the early deaths of thousands of city dwellers each year.
Anyone driving a vehicle within the designated zone or across the area's boundary that is not ULEZ compliant, will have to pay a £12.50 charge.
Where does ULEZ now stretch?
The newly expanded ULEZ area was introduced in London on Monday 25th October 2021 and is 18 times the size of the original centralised zone.
ULEZ now covers all areas within Greater London's North and South Circular roads, not including the North Circular (A406) and South Circular (A205) roads, which aren't currently part of the zone.
What makes a vehicle ULEZ compliant?
Almost 90% of all vehicles in the UK currently meet the required ULEZ minimum emission standards to travel inside the boundary free of charge.
To comply with ULEZ, petrol fuelled cars need to be of Euro 4 standard, which usually applies to vehicles first registered after 2005. Diesel fuelled cars are required to be of Euro 6 standard, which usually applies to vehicles first registered after September 2015.
What other vehicles are exempt from ULEZ?
Petrol vans that were first registered from January 2006 meeting the Euro 4 standard.

Diesel vans that were first registered from September 2016 meeting the Euro 6 standard.

All motorcycles and mopeds that were first registered after July 2007 meeting the Euro 3 standard.

Lorries, coaches and other large vehicles, including; breakdown and recovery vehicles, caravans, concrete mixers, fire engines, HGVs, horse boxes, gritters, refuse collection vehicles, removal lorries, road sweepers, snow ploughs, and tippers amongst others.
ULEZ compliant used cars at Avalon
Here at Avalon Motor Company in Glastonbury, Somerset, we stock a large number of used cars which are ULEZ compliant.
Each representing exceptional value for money, our ULEZ used cars can be searched for online and are identifiable by the black ULEZ button visible in the top left-hand corner of each car listing.
With so many options available, trust Avalon for a great deal on a used car that is new to you. Click here to get started or visit our showroom near the world-famous Glastonbury Tor - we're open seven days a week.