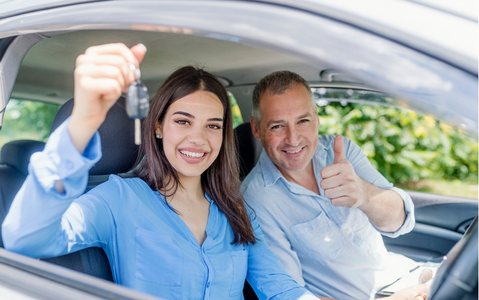 The Best Cars for New Drivers
If you've just passed your driving test, the first thing on your mind will no doubt be what car to buy.
Your very first car is something you'll remember for the rest of your life and will allow you freedom like never before. However, it does need to tick a number of boxes, such as; be relatively cheap to insure, small enough to park confidently, have low running costs, and match your budget.
Take a look below at our list of the best cars for new drivers, each available at our Avalon Motor Company dealership for you to test drive today:
Fiat Panda
This little car really does pack a punch when it comes to price, performance and reliability. The Fiat Panda is a five-seater city car that has over 40 years of history under its belt and is one of the cheapest cars to insure. It has a surprisingly large amount of storage for a small car and is the perfect partner as you take on the open roads.
Ford Fiesta
A legacy that has seen it grace UK roads since the late seventies, the Ford Fiesta is a compact hatchback that is available in either three-door or five-door options. This motoring icon is one of the best value small cars on the market and is equally as impressive to drive. Slightly larger than some of the other options listed, you can be sure it's a four-wheeled friend that won't let you down.
Toyota Aygo
The Toyota Aygo is ready for any adventure thrown its way. It's classed as a sub-supermini sized city car which has paved the way for modern, compact design. Enjoy economical running costs thanks to great fuel consumption alongside low-level insurance and road tax costs. To top it off, the Aygo is extremely good value for money too.
Vauxhall Corsa
If it's a reliable car you're looking for, then you can't go far wrong with the Vauxhall Corsa. Cheap to run and tax, the Corsa is a small car which is similar in size to the Ford Fiesta and Volkswagen Polo. It's one of the most cost effective compact hatchback cars on the market and has a good-sized boot space, no matter whether you're on the daily commute or heading for a weekend getaway.
Volkswagen Polo
Built by a premium trusted brand, the Volkswagen Polo is essentially a smaller-sized Golf, but bigger than its little sister, the Volkswagen Up. It really is a car for everyone; benefiting from great build quality and smart looking design, which is affordable and a joy to drive around city streets or country roads.
Choose Avalon for Your Next Used Car
Whatever the type of car you're looking for, we are here to help. Whether you are a new driver or have been driving for many years, we offer a large selection of great quality used cars from a wide selection of manufacturers.
We have prices to suit every budget and can offer finance packages to make your purchase even more affordable. Visit our showroom in Glastonbury, Somerset, or click here to begin your car search online.