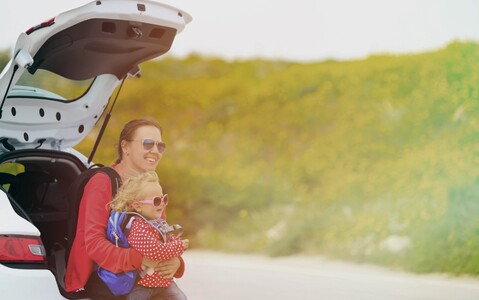 We're celebrating Mother's Day this Sunday 14th March and have compiled our top 10 cars for mums, all available here at Avalon Motor Company.
From 4X4's to SUVs, hatchbacks and estate cars, we'll have a car to suit you and your family. At our dealership in Glastonbury, Somerset, you'll find a fantastic selection of the finest used cars all representing exceptional value for money.
Whilst our showroom remains closed until Monday 12th April, you can buy your next car from the comfort of your home. Discover our variety of used cars online to find the right vehicle for you. We have new stock arriving everyday, so be sure to keep up-to-date with our latest arrivals.
Our range of family vehicles has grown significantly in the last few years, so whether you're looking for a car to take the kids to school or on weekend camping trips, then take inspiration from the list below...
BMW 2 Series Active Tourer
BMW describes their 2 Series Active Tourer as perfectly equipped to integrate your worlds together by combining performance and functionality. It's a diverse vehicle that can handle both urban adventures and city living. Click here to view our used BMW 2 Series Active Tourer.
Citroën C4 Cactus
Enjoy the robustness of an SUV paired with the dynamism of a compact hatchback. The Citroën's redesign features the distinctive 'AirBump' panels on each side of the car which is designed to protect the vehicle from damage in car parks. Click here to view our used Citroën C4 Cactus Puretech edition.
Fiat 500X
Stand out from the crowd in the Fiat 500X designed to provide a smooth driving experience, great performance and more efficient fuel consumption on your journeys. Enjoy the look of a city car boosted by a small crossover body. Click here to view our selection of used Fiat 500X cars.
Kia Sportage
The strikingly sporty Kia Sportage proves to be a popular choice and is a great family SUV, delivering on style and performance. Enjoy roomy cabin space teamed with extreme comfort making it the perfect all-rounder. Click here to view our selection of used Kia Sportage cars.
Mini Countryman
The Mini Countryman is a versatile and spacious model which is classed as a small SUV; it's the Mini for people who want a crossover. From a safety perspective, Euro NCAP has awarded the Countryman a 5-star crash rating. Click here to view our used Mini Countryman Cooper edition.
Nissan Qashqai
The award-winning Nissan Qashqai is a family SUV that's not only comfortable to drive, but is reasonably cheap to run too. It's won 'Best Compact SUV' for two consecutive years and has been praised for its ample storage space. Click here to view our selection of used Nissan Qashqai cars.
Peugeot 3008
The Peugeot 3008 is considered one of the most desirable cars in its class, mainly due to its stylish looks, upmarket interior teamed with on-point practicality. If you're looking for a big boot then you'll be pleased to hear that it offers a roomy 520 litres. Click here to view our selection of used Peugeot 3008 cars.
Renault Kadjar
Renault describes the Kadjar as 'the adventurous SUV'. In terms of size, the Kadjar sits perfectly between its siblings; the smaller Renault Captur and larger Renault Koleos. Its higher ground clearance makes it the perfect vehicle for more challenging terrain. Click here to view our selection of used Renault Kadjar cars.
Vauxhall Grandland X
The Vauxhall Grandland X is a family SUV with a large boot which is considered a good all round vehicle. Vauxhall describes its Grandland X as bold and powerful paired with cutting-edge technology. Click here to view our used Vauxhall Grandland X Elite edition.
Volkswagen Tiguan
Stylish, practical and easy to drive, the Tiguan offers everything we've come to expect from Volkswagen and more. In terms of space, it offers more than many of its rivals including extra seating if needed. Click here to view our selection of used Volkswagen Tiguan cars.
Reserve any vehicle online for a fully refundable £199 deposit and we'll be in touch with you to offer our Click and Collect or Home Delivery service. Search our stock to find your next used car here.