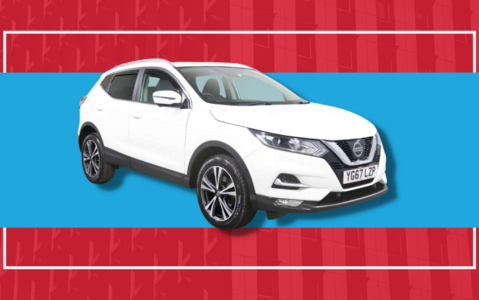 Nissan Qashqai Confirmed as the UK's Best-Selling Crossover
There's no doubt that SUVs are dominating UK roads, so if you're looking to invest in a quality crossover car for your daily drive then you may want to consider the Nissan Qashqai.
Confirmed as the UK's best-selling SUV in autumn 2021, the Qashqai makes up almost half of all new Nissans sold since the September plate change - it's quite the accolade for the Japanese car manufacturer.
As the demand for compact crossover vehicles grows, motorists can enjoy so many features and benefits in what is fast-becoming a competitive market space.
Why buy a Nissan Qashqai
Aside from becoming the UK's top crossover vehicle, the Qashqai offers so many great qualities, no matter what your travel plans. Here's just a few reasons why we think you should invest in a Nissan Qashqai:
Safety first
The Nissan Qashqai proudly boasts a five-star Euro NCAP rating for ultimate safety and driver peace of mind. Innovative safety features have ensured that the Qashqai is a market-leader when it comes to the safety of you and your passengers, young or old.
Fantastic storage
If you're looking for a vehicle with ample amounts of storage space, then you'll be pleased to hear that the Qashqai provides a roomy 400-litres of space in the boot. This expands to an impressive 1,600-litres when the rear seats are folded.
Mums choice
Mother & Baby Magazine rated the Nissan Qashqai the number one choice for mums. Reasons include the ability to sit higher-up when driving, whilst handling like a standard car. Relatively low running costs and safety features also contribute to it being considered a fantastic family motor.
Choose Avalon for a Nissan Qashqai
Here at Avalon Motor Company, we specialise in the sale of quality nearly new and used cars. We aim to bring you the best selection of cars possible alongside the very best in customer service.
Visit our showroom located nearby the world-famous Glastonbury Tor in Somerset, to explore our choice of vehicles which you can test drive today.
In stock now, discover our selection of Nissan Qashqai's which are available with finance packages to make your new purchase more affordable. We consider ourselves a 'one-stop' buying experience so you can also take advantage of our aftersales facilities too.
We put a great deal of hard work into sourcing the right vehicles which are prepared to the highest standards for our customers. Click here to view our nearly new Nissan Qashqai's online.