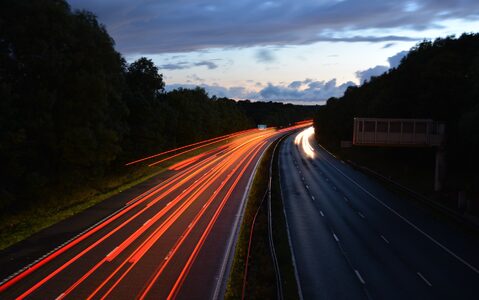 Motorway Rules That You Need To Know
If you've travelled any distance in the UK, you'll no doubt have encountered motorways; those large roads built for fast travel. You'll also be aware that they come with their own set of rules, and they are to be adhered to at all times.
Whether you're new to motorways, or you're a seasoned driver, it's worth making sure that you've got the dos and don'ts of these fast roads committed to memory…
Entering a Motorway
You'll usually join a motorway via a slip road from the left-hand side, and priority should be given to the vehicles that are already travelling on the motorway. Using the slip road, accelerate to fit the speed of the moving traffic to merge safely into the left-hand lane.
Some other important rules to note:
Don't cross any solid white lines that separate the lanes.
Don't use the hard shoulder to enter a motorway.
It's best to stay on the slip road if it continues as an extra lane.
Driving on a Motorway
The main rules to follow when you're travelling via motorway are as follows:
Always keep a distance of 2 seconds from the vehicle in front of you, at least doubling this when conditions are bad, such as in rain, fog, or when it's icy.
Never exceed 70mph, and always stick to any lower limits put in place for
roadworks, hazards, or to help traffic flow, keeping an eye on those overhead signs.
Don't cross the central reservation or drive against traffic flow - it may seem obvious, but stranger things have happened on motorways.
Do you hate a middle lane hogger? You're not alone - and cruising in the central lane is generally a big no-no. The Highway Code's official line on the subject is that 'you should always drive in the left-hand lane when the road ahead is clear. If you are overtaking a number of slow-moving vehicles, you should return to the left-hand lane as soon as you are safely past.'
Stopping
Stopping anywhere on a motorway is dangerous due to the sheer volume and speed of traffic - if you've ever travelled on a motorway, you'll know that there's no temptation to stop unless absolutely necessary. You must not stop on any carriageway, slip road, central reservation, verge or hard shoulder unless there is an emergency (such as a breakdown), or you're asked to do so by a police or traffic officer, or an emergency sign.
If you're planning to travel on a motorway, it's good practice to plan ahead (particularly the junctions you need to take), leave yourself plenty of time, and reacquaint yourself with the rules.
Travelling along the M5 in Somerset anytime soon?
Avalon Motor Company are a leading seller of used cars in Glastonbury, and we'd love to see you. We have an extensive selection of makes and models in stock, with a range of finance options available to spread the cost of your next used car. Find your next vehicle here.