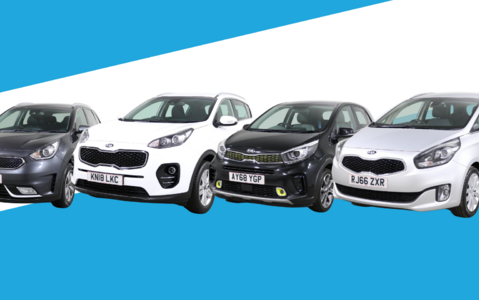 Kia Kicks Off 2022 As The UK's Best Selling Car Brand
With a strong reputation and high ambitions, 2022 has started strongly for Korean brand Kia. Accelerated sales have seen the maker of vehicles such as the Sportage, Picanto and Ceed become the UK's best-selling car brand for the first month of this year, registering an impressive 10,504 units in the UK in January.
As a manufacturer that champions value for money, Kia has risen through the ranks in recent years as an affordable car brand with a big emphasis on safety. They're also renowned for their warranties, offering customers a whopping 7 years cover across their whole range; a testament to their reliability.
Kias at Avalon Motor Company
As a leading used car dealership in Somerset with a wide selection of pre-loved cars available, we currently have a range of Kias in stock that demonstrate why they're such a popular choice…
Kia Sportage
Easily Kia's best selling model, the Sportage is an SUV that ticks a lot of boxes. Naturally topping the list of potential family cars, these versatile vehicles seat up to 5 people with plenty of storage space. A solid build quality adds to the overall positive driving experience, making it comfortable on those longer journeys.
We currently have 7 Kia Sportages to choose from at Avalon Motor Company - find your perfect one here.
Kia Picanto
In contrast to the Sportage is the Kia Picanto, a compact urban hatchback with lots of personality. Popular with commuters and first-time drivers, the Picanto offers reliability and practicality; not to mention that it's easy to park and cheap to run.
As a standard hatchback, the Picanto has a pretty remarkable spec, as the 2018 model in stock at Avalon can demonstrate. With heated seats, parking camera, privacy glass and only 18,937 miles on the clock, it's a great find. See the full details here.
Kia Carens
If you regularly carry a lot of passengers, the Carens is the perfect Kia for you - its third row of seats means that it can seat up to 7. Typically chosen as a family car, its excellent crash-test scores only make it more appealing, and the numerous handy features inside meets and exceeds your driver convenience expectations.
The 2017 model we have in stock right now sports a full leather interior and lots of all-important storage - explore it here.
Kia Niro
The Niro is Kia's front-runner in sustainability, offering three levels of electrification; hybrid, plug-in hybrid and full electric. As a crossover SUV, it offers the space and comfort you'd expect from a larger vehicle, whilst keeping emissions low.
The 2017 Kia Niro we're fortunate enough to have in stock right now is a 1.6L Hybrid with only 14,310 miles on the clock. Could it be your next hybrid? Get acquainted here.
Choose Avalon For Used Cars
As well as January's UK best-seller Kia, we also offer a range of other popular makes and models at Avalon Motor Company in Somerset, carefully chosen and rigorously inspected prior to going on sale. A range of finance options are available to help you spread the cost, and you can even reserve the perfect car for you online for £199.
See our full range of quality used cars here.