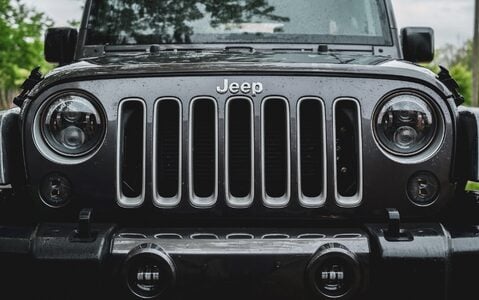 Jeep: 80 Years of an Automotive Icon
An anniversary worthy of celebrating, Jeep marks its 80th birthday this year - a momentous occasion for the American automobile brand.
With eight decades of history behind it, Jeep is best known and loved as leaders in the 4x4 market, producing a range of crossover and off-road SUVs. But it wasn't always this way...
Back to the Beginning
Prior to World War II, the term 'Jeep' was used as a slang word by the American army which referred to their new recruits or vehicles. It was this reference that the brand adopted for its own, leading to the Jeep brand we know and love today.
It is arguably the oldest four-wheel drive vehicle and went on to become the official vehicle for the U.S. Army in 1941 with the development of the 'Bantam' reconnaissance car. Its popularity led to many Jeep variants being used by other military forces.
Production of the very first Jeep model for civilians was launched in 1945, known as the 'Willys Jeep' design. This model formed the basis of the classic Jeep Wrangler which has been in production since 1986.
Abilities and Capabilities
Jeep's main selling point has always been the off-road capabilities of its vehicles. Its Wrangler model is one of the only four-wheel drives with a solid front and rear axle still in mass-production - making it stronger and more durable.
Higher ground clearance means that larger tyres can be used to overcome the trickiest of off-road environments. The highly capable range of Jeep's not only look the part, but prove fun to drive too.
Awards and Accolades
Jeep is no stranger to recognition for its range of off-road models. At the recent 4x4 of the Year awards, the Jeep Wrangler was crowned winner of the Best Off-Road Vehicle award and the Jeep Renegade took top spot for the Best Small SUV award.
The manufacturer's Grand Cherokee is the most awarded SUV ever thanks to its power options, safety features, luxury interior, infotainment system and outstanding off-road capabilities.
Anniversary Editions
To mark its 80th anniversary, Jeep has released two special commemorative editions of its Renegade and Wrangler models. Featuring iconic 80th anniversary badging, both special editions also feature unique 18-inch alloy wheels, granite crystal paint and a black leather interior emblazoned with the anniversary logo and classic Willys branding.
Celebrating 80 years of adventurous driving, Jeep's limited run of special editions go on sale this month and look set to be snapped up by fans of their bold and distinctive designs.
Used Jeep Cars at Avalon
Here at Avalon Motor Company, we specialise in the sale of used cars and aim to bring the best selection at the best prices possible. With a large selection of quality used vehicles on offer at our dealership in Glastonbury, Somerset, we stock a cross-section of makes and models, including the award-winning Jeep.
Right now, you can get your hands on the fantastic Jeep Renegade M-Jet Limited model. This eye-catching and very capable compact crossover is surprisingly easy to drive and is much narrower in size than its large appearance suggests.
Click here to find out more about our used Jeep Renegade, which comes with £600 of factory fitted extras.