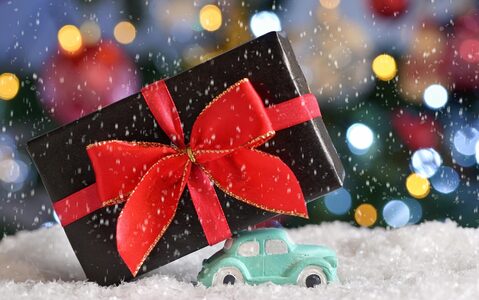 Christmas Gifts for Car Fans
There aren't many sleeps left until Christmas day, so if you still have a shopping list as long as your arm, then we can help!
We've put together a list of Christmas gift ideas for the car lover in your life; from the best car cleaning kits to awesome driving experiences, you're bound to find the perfect gift for any car fan...
Cleaning kit
There's nothing better than a sparkling clean car that has been lovingly washed by hand. If the car lover in your life likes to get their hands dirty, then buy them a car cleaning kit to make light work of it. One for Top Gear fans, the Top Gear 7-piece car cleaning kit is available on Amazon for £19.99. Produced by CarPlan, the Demon valeting gift sets are also great and can be found in a variety of stores across the UK, starting at £19.
Clothing and accessories
What Formula 1 fan wouldn't want an official McLaren hoodie or baseball cap, or a BMW owner with their very own BMW-themed merchandise? From keyrings to wallets, socks to t-shirts, nearly every brand of vehicle will offer merchandise for sale via their website.
Dash cam
Not only are dash cams a good way of safeguarding yourself against bad drivers, but insurance companies now widely recognise footage from dash cams as part of an insurance claim, should you be involved in an accident. Prices start at around £19.99 for non-brand dash cams, anywhere up to £199 depending on the brand and its requirements.
Driving experience days
Put a smile on the face of any car fan with a driving experience day. Whether it's a supercar session, off-roading adventure course, or classic car circuit, there really is something for everyone. Two of the most popular options are the Virgin Experience Days or Buyagift vouchers, both offering huge discounts in the run up to Christmas.
Key finder
Misplaced car keys will be a thing of the past thanks to a handy car key finder device. Tile Mate proves to be the most popular brand with prices starting at £12.98 in Currys. Non-brand car key finders prove much cheaper, starting at just £4.49 on Amazon.
Lego kits
Whether you're searching for a present to please the little or big kids in your life, then you can't go far wrong with a lego set. The range is diverse and varies in technical ability depending on age. Take inspiration from the speed champions racing car for ages 7 and over, priced at just £14.40 on sale in Argos. Or how about the McLaren Senna GTR racing sports collectable model car for adults, starting at £35.99 on Amazon.
Rubbish bin
This Christmas gift idea isn't as rubbish as it seems; we all know someone whose car could do with a clear up, especially if they have little ones! A car rubbish bin is a handy addition and comes in many different shapes and sizes, so it can be attached to the back of a seat, for example. Take advantage of the Halfords Christmas sale where they have reduced their waterproof car bin from £9 to £6.49 - what a bargain.
Used car
If you're looking for a nearly new or used car for Christmas, then you've come to the right place. Avalon Motor Company is the name for used cars in the South West of England. We stock a large number of used vehicles of all makes and models here at our site in Glastonbury, Somerset, all representing exceptional value for money.
Visit our showroom in person located near to the world-famous Glastonbury Tor, or search our cars via our online showroom to see what we have to offer.