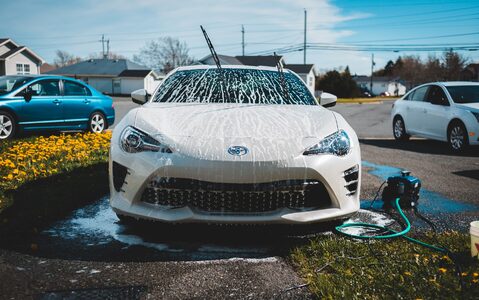 A Spring Cleaning Checklist For Your Car
As the trees come into leaf, the days get longer, and we inevitably start venturing out more in our cars, we find ourselves with a winter's worth of road grime and interior clutter to contend with. It's possible to achieve a great do-it-yourself car clean without leaving your driveway; here's a spring cleaning checklist to get you started…
Wash and wax
First things first, it's time to get rid of all that road dirt. Start with a pre-wash to remove the surface layer of grime, before using dedicated car shampoo from top to bottom, rinsing as you go. Then use a car wax of your choice, and polish away.
Squeaky clean wheels
Dirty wheels can let down the overall impression of your car, and it's likely they've borne the brunt of winter driving. Scrub your alloys or remove and wash the hub caps, and use the opportunity to check your tyre pressure and tread depth.
Give your glass some attention
Whilst your exterior wash will have gone some way to cleaning the windscreen and the windows, it's worth using a window cleaner both inside and out to get them crystal clear. Do the mirrors in the same way and look forward to a streak-free finish.
A good tidy up
It doesn't take long for debris and clutter to build up inside your car - from winter shoes and coats to wrappers, car park tickets and water bottles, clearing out items from over the winter season will make an instant difference. Don't forget areas like door pockets, glove boxes and cup holders too.
Clean carpets and upholstery
Time to get the vacuum out; the crevice tool is your friend for this particular job. You can then use a damp towel to wipe down the seats, and a specialist leather cleaner to keep any leather upholstery looking tip-top too.
Attend to the air vents
Your air vents are a magnet for dust, and as allergy season approaches, you won't want to add to it with dust particles blown into your car. Grab an old paintbrush or even use the hoover to remove the dust on these areas.
Consider an air conditioning service at Avalon Motor Company if you're keen to further reduce allergens in your car.
A dust-free dashboard
A dusty console is one of the first things you'll notice when you get into your car, so remove it from your line of vision by wiping down plastics with a damp cloth, being mindful of electrical connections and touchscreens.
Something sweet-smelling
Once your interior is gleaming, all you need is a pleasant scent that lasts. If you opt for a classic cardboard air freshener, just remember not to hang it from your interior mirror, as this can obstruct your view whilst you're driving.
Lights, levels and general checks
Ready to hit the road in your spruced up motor? It's worth using your spring clean to tick off some housekeeping too; check your washer fluid and oil levels, that all your lights work, and whether your wipers need replacing, giving you peace of mind for the warmer months.
Thinking of a fresh start completely?
If the change in the seasons has prompted a change in your car too, you can find your next used car at Avalon Motor Company. With a wide selection of makes and models, carefully chosen and well-presented, you're bound to find the right fit on our forecourt. Start browsing here.