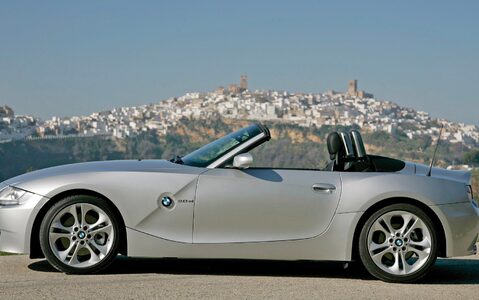 Hidden Easter Eggs in Cars
Did you know that many car manufacturers hide messages or items in their vehicles? These are referred to as 'Easter eggs' and appear in many different models.
With Easter around the corner, we've compiled a list of some of the Easter eggs that can be found in everyday cars. You'll be surprised at what you may find...
BMW Z4
The BMW Z4 is more than meets the eye. It quite literally has a Z on the side of its cars which has been implemented by the design team. The Z stretches along the top of the bonnet, diagonally across BMW's logo, and then along the bottom of the door.
Hyundai Genesis
The Hyundai Genesis steps it up a gear when it comes to making a welcoming impression. When a driver clicks the fob to open the car door, its wing mirrors fold out and projects the brand's logo onto the floor of the driver's side.
Jaguar E-Pace
Jaguar has included a fun image in a nod to their name. A silhouette of a jaguar and its cub can be seen walking across the front windscreen of their E-Pace models.
Jeep Renegade
Situated underneath the fuel cap, the Jeep Renegade has a picture of a spider with the words "ciao baby" next to it.
Jeep Wrangler
The Wrangler pays tribute to its Jeep predecessors. A picture of the original military developed 'Willys' Jeep is visible in the vehicle's alloy.
Renault Twingo RS
Gaming fans will enjoy the Renault Twingo RS model Easter egg. The foot pedals feature the 'pause', 'stop' and 'play' buttons usually found on the controller of a gamers handset.
Skoda Octavia
Skoda's manufacturers have thought outside the box and Octavia owners can find a complimentary ice scraper tucked away in the door of the fuel cap.
Skoda Superb
The Skoda Superb surprises with a very handy umbrella. It can be found within a holder inside the car door, which we think is a great idea.
Vauxhall Corsa
Eagle-eyed Vauxhall Corsa owners will find a picture of a shark hidden in various areas of their cars. The most common place is on the side of the glove box.
Volvo XC90
Another car that features a surprise spider inside is the Volvo XC90. The cheeky chappy can be found underneath the lid of the storage bin.
Discover Our Used Cars
If you're looking for a used car then you've come to the right place. Here at Avalon Motor Company, we stock a wide variety of pre-owned vehicles which represent exceptional value for money.
Click here to start your car search online.